First Lady Marine Chief Engineer
archive > archive documents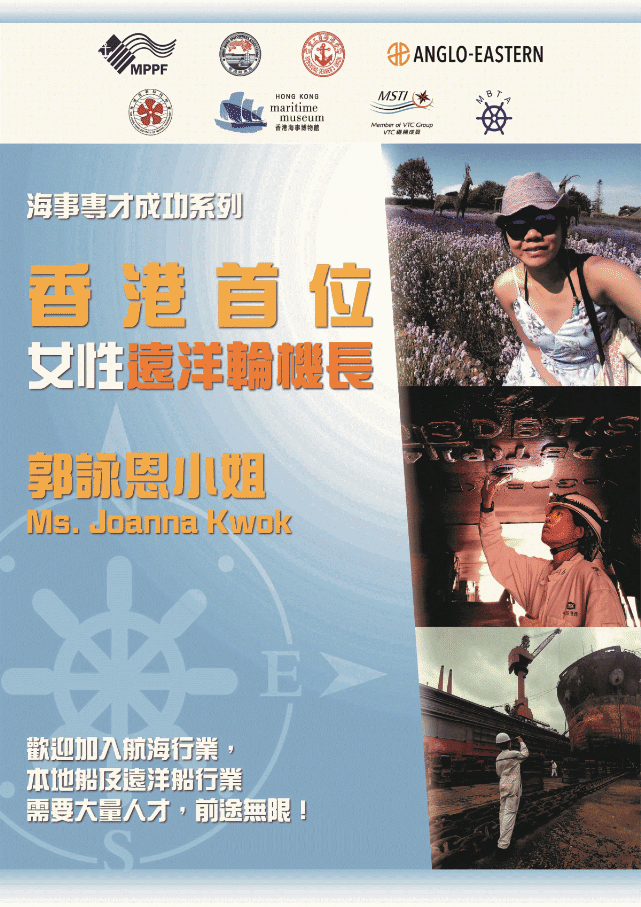 Welcome speech by Capt. Marso Law, the Convenor of the Martime Professional Promotion Federation (MPPF)
Ms Joanna Kwok, a young lady graduated from a well-known girls'school "St'Paul Covent lady school. After completing "Higher Diploma in Mechanical Engineering"at the Hong Kong Institute of Vocational Educatione (IVE), she joined Anglo-Eastern Ship Mamagement Ltd. Hong Kong. Having been through a few years of hard work, she achieved professional success in a predominately male-dominated industry. Her successful breaking with tradition not only sends a significantly positive message to the shipping industry in Hong Kong, but also consolidates youngsters' awareness of vocational and professional education and training (VPET).
I must confess that lady was never be allowed to even enter the engine room during my time at sea. Her success is incredible!
Contemporary seafaring is a safe and advanced professional industry. A career at sea carries professional qualification and excellent job prospects. Mr Cheuk Ka Ho, who has received deck officer training in a shipping company, and Mr. Demen Kwok Wai Cheung of MBTA, will share their experiences during the discussion panel.
According to the policy address this year, Hong Kong will retain her status as an international maritime centre and her long-held prime status in the global maritime industry. Nevertheless, Hong Kong faces the problem of a shortage of maritime professionals locally, which is also encountered by other maritime centres.
Between 2002 and 2004, the MPPF took the initiative to launch a "sea-going training fund" providing scholarships for those who aspire to work at sea, and helping them to fulfill their dreams of working on board vessels.
The Government launched the "Sea-going Training Incetive Scheme" in 2004 to provide more deck cadets and engineer cadets with financial incentives, and to ensure more interested youngsters to be benefited from it. The Sea-going training Incentive Scheme provides cahs allowance to cadets under training to enable them to realise their seafaring dreams. To date, more than 550 deck and engineer cadets have partecipated in the Sea-going Training Incentive Scheme. The hih figure demostrating the scheme's success. Many beneficiaries of these sponsorship schemes have acquired Certificates of Competency (deck officer or engineer), and are working in various organizations, including the Marine Department.
The Maritime and Aviation Training Fund (MATF) was later set up by the Government in April 2014 to support the manpower development of maritime and aviation sectors. Since then, the Scheme has been operated under the MATF. In May 2019, $ 200 million was approved to be injected into the MATF to sustain and enhance existing training schemes and scholarships, as well for launching new initiative for the maritime and avition sectors.
The shortage of martime professionals is also seriously affecting local market. Many construction projects, local ferry services and cargo transportation segments require heavy manpower resources. The training and promotion of young people are very important to provide enough workforce for the market.
Students can work on either ocean-going vessels, local vessels or other disciplinary forces such as Marine Police and Customs.
It usually takes cadets about eight years to obtain Master or Chief Engineer qualifications. After obtaining these professional qualifications for ocea-going vessels, mariners can turn to shore-based maritime industries and take up managerial posts, such a marine officer, ship surveyor, ship manager, logistic manager and surveyor in classification societies.
Alternatively, they may choose to further their stusdies and take jobs in other maritime business after acquiring the related professional qualifications. Examples of such professions include maritime arbitration, maritime law, ship mamagement, marine engineering and marine insurance.
The MPPF wa jointly formed by individuals from 8 maritime unions and affiliated maritime organisations in 2002. Its objective are to promote the maritime industry, to encourage young people to join the industry, to enhance relevant education and training, to nurture maritime talents ands to mantain Hong Kong's status as an international maritime centre.
Seafaring is safe, professional and advance, and offers attractive remuneration and bright prospects. Both the sea-going Master Mariners and Chief Engineer Certifcate of Competency are accredited to be level 4 equivalent to bachelor degree. The remuneration of working at sea may not be much higher than normal shore jobs in short term, but they will have very good prospects after receiving the professional qualification in long run. Owing to the working conditions at sea, youngster may be able to save money for further studies and various investments in future.
The result od DSE will be released on Wednesday 10 July. All those who would like to pursue a career in the shipping industry can consider studying the Higher Diploma in Maritime Studies or Higher Diploma in Mechanical Engineering programmes under the Vocational Training Council; or undergraduate degree programmes offered by the Department of Logisitics and Maritime Studies at the Polytechnics Univerity; or mechanical engineering degree programmes in various local universities>
from local newspapers
(9 July 2019)