CMMar
archive > archive documents
from the
CHINA DAILY
HONG KONG
Friday, November 15, 2019, 20:29
HK resident gets top maritime accreditation
HONG KONG - Hong Kong had its first Chartered Master Mariner in Kaushik Roy, 43, when the British national and Hong Kong resident was granted the Chartered Master Mariner status by the Honourable Company of Master Mariners (HCMM), London, on Oct 31, 2019.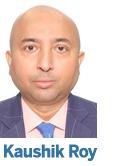 The chartership status is awarded to qualifying Master Mariners in association with The Nautical Institute, an international representative body for maritime professionals. The accreditation goes to high-achieving professional seafarers as a mark of excellence that recognizes expertise, superior competence and peer-recognised qualities for identification as a leader within the global maritime industry.
Roy, a 24-year veteran of the maritime industry, is a council member of the Hong Kong Institute of Marine Technology (FHKIMT). He is a committee member of Hong Kong Joint Branch of the Institute of Marine Engineering, Science and Technology (IMarEST) and Royal Institute of Naval Architects (RINA). He is also a committee member of the Hong Kong branch of The Nautical Institute.
Maritime industry veteran Kaushik Roy's accreditation as a Chartered Master Mariner comes as the city prepares to hold the 2019 Hong Kong Maritime Week during 17-23 Nov
Roy, a safety, quality and environment manager with with the first Chinese overseas LNG joint venture - China Energy Ship Management, has participated in the Hong Kong Maritime Week since its inception.
"Achieving the Chartered Master Mariner accreditation - CMMar - is a great honour. Moreover, becoming the first overseas CMMar accreditation holder in China and South-east Asia will encourage others to achieve this 'gold' status. As the first Indian-origin CMMar, this is especially significant to me ," Roy said. "Not every Master, officer or shipping professional can achieve this. CMMar is for those who are seeking a different sort of professional status that recognises the exceptional service they provide over and above their seafaring activities."
Roy's accreditation comes as the city prepares to hold the 2019 Hong Kong Maritime Week during 17-23 Nov.
Ceremonial event on HQS Wellington (London) for Chartered Master Mariner.