kitty hawk
archive > archive presentations
Hong Kong Branch visit USS KITTY HAWK (CV 63)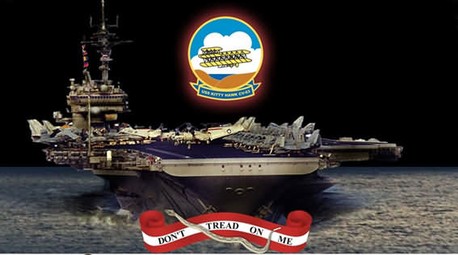 Saturday 26 February 2005 a group of 20 Members and guests had the opportunity to visit the USS Kitty Hawk at Pun Shan Shek anchorage. After a security check and baggage search, our launches departed from Fenwick Pier, and we boarded from a large floating pontoon. Our tour began at the Hangar Bay, the primary function of the Hangar Bay is to store or serve as the repair site for the ship's aircraft. Nearly half of the 75 aircraft on board can be kept in the Hangar Bay, with the remainder staged on the Flight Deck. Aircraft are lifted from the Hangar Bay to the Flight Deck by one of the ship's four aircraft elevators, each able to transport 130,000 pounds, or two airplanes.

Then we went to the Forecastle, both of the Kitty Hawk's 30 ton anchors are raised or lowered from the Forecastle. The anchors are each supported by more than 300m of anchor chain. Each link of the chain weigh 162kg.In port, more than a dozen four inch diameter airmid lines are used to tie Kitty Hawk to the pier.

From the Forecastle we went to the Flight Deck, the Flight Deck is often described as one of the most dangerous places in the world, because of the continual flow of aircraft launching and landing in a single confined area. Kitty Hawk uses 4 steam powered catapults to launch planes from its 323 m long flight deck at a rate of one plane every 30 seconds. The catapult, in conjunction with the plane's own engines, allows the plane to accelerate from 0 to 180 miles per hour in just two seconds.

Landing requires not only nerves of steel, but cables of steel as well. Four one and 1/2 inch diameter arresting wires are used to "trap" an incoming aircraft. These cables rest about 3 inches above the flight deck and when caught in the plane's tailhook, will bring the plane to a stop in less than 100 m.

Kitty Hawk America's Oldest Active Warship, built in 1961 by New York Shipbuilding.

Hawk by the numbers..