Jul04
archive > Log > Log2004
Annual General Meeting 2004
Trinity House, London 27 May 2004
Retiring President's Address (excerpts)
Captain Robbie Middleton FNI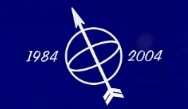 I attended the Hong Kong Branch conference on
Maritime Security
, which was financially profitable for the branch and a credit to the Institute, bringing participants and speakers from all over the world.
While in Hong Kong, I was delighted to be able to present the
President's Certificate of Appreciation
to Ms Petty Fung-Ying Leung, Hon. Treasurer, and Ms Yvette Chan Yuk Lin, Assistant Secretary, of the Hong Kong SAR Branch for their outstanding service over many years.
Honorary Fellowship for S Y Tsui
Mr S Y Tsui, Director of Marine for the Hong Kong Special Administrative Region Government, was nominated for Honorary Fellowship by the committee of the Hong Kong Branch.
After graduating from the Hong Kong Technical College in 1967, Mr Tsui joined the World Wide Shipping Agency Ltd as a seagoing engineer. He took up the post of assistant superintendent engineer in 1976 before joining the marine department as a Surveyor of ships in 1978. He was promoted to Deputy Director of Marine in 1995 and to Director of Marine in 1998.
Mr Tsui is a chartered engineer and gained an extra first class engineer certificate and an MBA degree. He was awarded an MSc in data processing by the University of Ulster. He is a Fellow of the Hong Kong Institution of Engineers, Institute of Marine Engineers, Science and Technologists, and Hong Kong Institute of Maritime Technology, and a Member of the Royal Institution of Naval Architects.
'Mr Tsui is a man of great modesty and dignity, who is respected by all who know him' said Robbie Middleton, announcing the award. 'He has devoted his career to the promotion of safety and the highest standards of integrity and professionalism, and as Director of Marine has worked tirelessly to establish the Hong Kong register's reputation for quality while making the port one of the safest-in the world.
`He has always been focused on improving safety at sea both in terms of technical improvements and maintenance of IMO standards on ships and safeguarding the lives of crew through training. He initiated the scheme of flag state quality control for Hong Kong flag ships which is now being taken up by many other shipping registers and is leading the way to improved flag state control of ships.
He will be presented with his certificate of Honorary Fellowship when the new President visits Hong Kong later this year.'
Seaways July 2004